The information presented below will help you prepare for your stay in Caux.
[IMPORTANT] ALL REGISTRATIONS ARE NOW CLOSED!
---
For any questions or further assistance with registrations submitted before 14 JULY please contact us at: reservation@caux.ch
---
PARTICIPATION RATES
Full Package
CHF 150 - Standard rate (for individuals - per person per night and day) 
CHF 210 - Corporate rate (for institutions - per person per night and day) 
All participant rates include: 
Accommodation
Participation in the chosen event
Materials provided during the event
WiFi
Meals, coffee / tea, as well as refreshments
City Tax
Daily Visitor Rate
 CHF 60 - Visitor rate (per person per day, including lunch, dinner and refreshments)
The Visitor Rate applies to persons who are only attending one or certain non-consecutive days during the Forum; The rate is charged per day and does not include accommodation.
---
Important: Please note that the total fees for your participation and stay in Caux will be calculated automatically when filling in your expected dates, depending on the required room category and the number and age of all participant linked to your registration.
PRACTICAL INFORMATION
Looking out over Lake Geneva from an altitude of 1050 metres above sea level, the Caux Palace can accommodate up to 450 people.
In 1946, the former Caux-Palace Hotel became an international meeting place for Initiatives of Change, thanks to generous contributions of time, talent and money from countless volunteers and supporters. The Caux Palace is owned and managed by the Swiss foundation Initiatives of Change (IofC) Switzerland.
We highly recommend that you travel to Caux by public transport as parking spaces are limited. Caux's train station is situated right next to the Caux Palace. Caux can be reached within one and a half hours by car or train from Geneva, and two hours from Bern. Trains run every hour from both Geneva Airport and Bern.
For exact travel times and connections, please consult www.rail.ch
Click here for a detailed map of the area.
Participants' rooms will be ready and available for check-in from 4pm on the day of arrival. Participants who arrive earlier may leave their luggage at reception. Our staff will do their best to have all rooms available when you arrive.
Check-out of rooms is required before 10:00am on your day of departure. If you stay on for events happening in Caux on your departure day you can leave your luggage at reception and collect it later in the day.
Please note that these are our general rules. However, our on-site team will inform you upon arrival if there is any flexibility on these points. 
The village of Caux does not have any shops but a selection of souvenirs, toiletries, snacks and drinks can be purchased at the Caux Palace.
Since cancellations have a considerable impact on the organization of the Caux Forum, its programmes and events, it is vital to inform the Reservations Team of any cancellation as early as possible by email: reservation@caux.ch
In the case of individual or group cancellations:
Any reservation cancelled before 30 June, 2023 will be refunded.
Initiatives of Change Switzerland will reimburse the amount you have paid, minus the bank fees and transfer costs charged during the payment process. Please note that Initiatives of Change Switzerland cannot be held responsible for any foreign exchange losses incurred in the process.
Any reservation cancelled after 30 June, 2023 will not be refunded
100% of the reservation amount will be charged for late cancellations. Refunds may be made under certain circumstances and requests for reimbursement should be sent to our email address: reservation@caux.ch
Please be aware that there is no ATM in Caux and we are not able to exchange foreign currency. You will find ATMs and currency exchange facilities in Montreux.
General Information
Families with children are welcome to come and join the Caux Forum. Please indicate your family's needs during your stay in Caux on the registration form. Large family rooms with additional beds will be made available for families who come with young children.
Please note that the Caux Forum event teams will not be able to provide a dedicated youth-oriented, participative programme with age-specific content. 
A free play area will be made available during the Caux Forum where children will be looked after by their parent(s), legal guardian(s) or by volunteers designated by IofC International.
Prices for the Caux Forum are already subsidized, but families sharing a room can benefit from a reduced rate of CHF 100 per night and day event for each child (aged 6–14). Children under 6 will be free of charge. Children over 14 years of age will be considered as adults.
Play area with animators
A free play area will be available at the Caux Palace, where children will be looked after by their parent(s), legal guardian(s) or by volunteers designated by IofC International. Please do not leave the Caux Palace building while your children are at the play area and always let us know where to find you so that we can contact you if needed.
Please remember that, even though we will do our best to take care of your children, they will remain under your full responsibility.
Play Area Location
2nd floor of the Caux Palace at the end of the terrace (close to the dining room)
Opening days:               Every day during ongoing conferences
Opening hours:             9:00 – 12:00  /  14:30 – 18:00  (Time may be adjusted)
Children age range:     18 months – 14 years
The children will have an opportunity to enjoy:
an indoor playroom with toys for different age groups
board games
arts and crafts
books
children's movies and cartoons
outdoor playground in the garden
table-tennis
outdoor games etc.
Snacks and Drinks
Your children will be provided with drinks and snacks (fruits, biscuits, etc.) during the morning break. Parents are invited to have their main meals with their children in the dining room.
Child Protection
Child protection includes protection of children from violence, exploitation, abuse and neglect as provided by Article 19 of the UN Convention on the Rights of the Child.
For all events at Caux, children must be accompanied by their parent(s) or legal guardian(s). Children remain primarily under the protection of the said parent(s) or legal guardian(s), as provided by law.
Any child protection issues which happen during the Caux Forum must be immediately reported to the IofC Switzerland Director of Operations and/or the IofC International Director General (see contact details below), either directly or through any member of the conference organizing team.
Contact:
Imad Karam - IofC International, Director General:                                +44 7932 084711           imad.karam@iofc.org
Horia Jarrar - IofC CH, Director of Operations, Finance & HR:               +41 79 615 58 11           horia.jarrar@caux.ch
Download the full document on the Caux Forum Policies for Families
It can be quite chilly in Caux so you may want to bring some warm clothes even during the summer. Sturdy shoes for a hike and closed shoes may also be of use. There is no formal dress code, but please bring clothing that respects the multicultural nature of our participants.
A public laundry room offers everything you will need to wash, dry and iron your clothes. 
Upon registration and by accepting these Terms and Conditions, you authorize Initiatives of Change Switzerland, registered as CAUX – Initiatives of Change, to use your personal data as stated in the registration form to contact you in relation to the registration process, the event, programme or conference selected, and your stay.
The data will also be used to inform the organizing team of the conference or programme about their attendees. It may also be used for statistical analyses but in that case will be anonymized. All data will be treated confidentially and will not be sold or transferred to any third parties outside the Initiatives of Change (IofC) network and partners, which consists of all members of Initiatives of Change International cited here: http://www.iofc.org/about.
Unless explicitly indicated otherwise by you via the registration form, Initiatives of Change Switzerland (also known as CAUX–Initiatives of Change) and the incorporated local IofC organization of the country of your residence may use your contact details after the conference, programme or event you have attended, for instance to send you our newsletter and conference report, and to inform you about upcoming events. You will be able to opt out of receiving such email communications.
All requests to access/change personal records should be directed to info@caux.ch
By registering for Caux Forum events or any other event organized by Initiatives of Change Switzerland, you consent to the use and distribution by the Foundation and its partners of your image, likeness or voice for informational, publicity, promotional and/or reporting purposes in print or electronic communications media.
If you do not wish images of yourself or records of your voice to be published/used, you may opt out by contacting Reception during your stay at the Caux Palace or by emailing the communications team.
Attendees may take and share their own photographs for private use as long the attendees comply with some basic rules of respect towards the subjects photographed.
The Caux Forum offers a safe space that needs to be respected. Participants should not take photographs in such a way as to hide from the subject that they are being photographed. If the subject does not agree to be photographed, their will must be
respected. Photography/recording should be treated like other potentially harassing interpersonal interactions. When one person in the interaction says 'stop' or 'leave me alone' or words to that effect, the interaction must end. In such cases, attendees should not attempt to photograph that individual again.
Lastly, the subject may inspect the photo/recording at any time and, if requested, the photograph or footage must be immediately deleted.
Official pictures are taken by the Caux Forum Communications Team and they will be made available on the foundation's Flickr account, used on social media or on the IofC Switzerland (www.iofc.ch) or IofC International (www.iofc.org) websites. The Communications Team will not share all of its photographs with individual attendees.
The Caux Forum welcomes journalists, bloggers, organizations, institutions and individuals wishing to cover and publish content related to the Caux Forum events. Depending on your role/representation, different requirements, terms and conditions will apply.
Journalists and media outlets willing to cover the Caux Forum need to request a Press Badge, which will grant access to all public activities. Please refer to this document to learn about the specific requirements. No Press Badge will be granted for independent bloggers, representatives of NGOs and partner institutions. For any communications related activities, including photo/film, video or audio recording for public use, a media release form must be filled out for approval.
Please contact the communications team for further information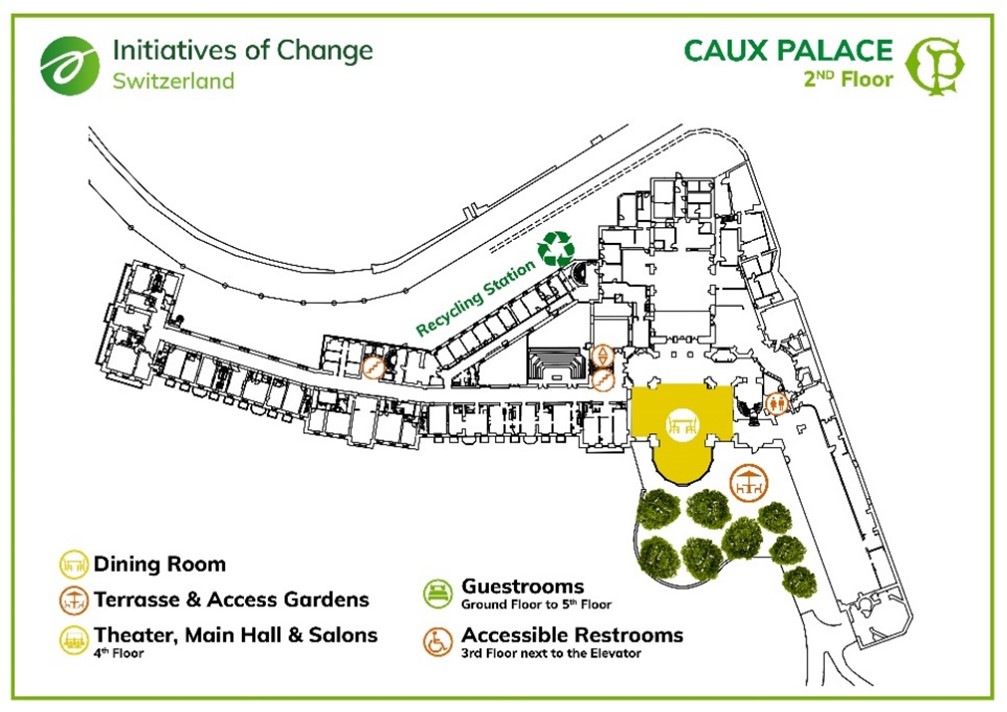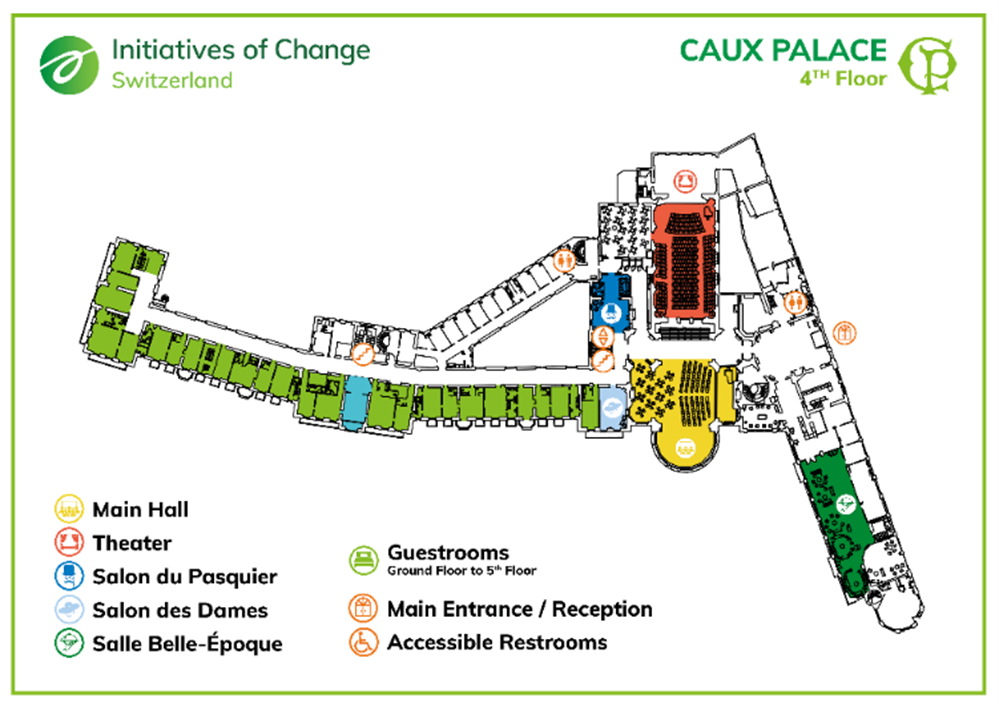 Caux's beautiful location high above Lake Geneva offers an ideal environment to relax. The conference schedule allows time for individual reflection and cultural or outdoor activities. In summer you can play football or table tennis and enjoy hiking and sightseeing.
Caux Forum participants receive the Riviera Card which offers free travel to Montreux and Vevey, reduced train fees up to the Rocher-de-Naye as well as numerous discounts for museums and other activities.
The schedule may include opportunities to share your artistic talents and pianos are available. 
Please make sure you have adequate health insurance to cover your journey and stay in Caux since the Swiss medical system is expensive.
Interpretation services in English, German and French will be provided upon request (see registration form). Interpretation into other languages may also be provided according to the needs of the audience.
We look forward to offering you well-balanced meals, mostly inspired by European cooking traditions. We favour seasonal produce from environmentally sustainable sources. Meals are served as a self-service buffet, open at specific times. Meals include fresh mountain water and coffee or tea.
Please note that for food safety and health reasons, there are no storage space or fridges for personal food. We also ask you not to keep any perishable food in your bedroom.
Vegetarian options will be available for lunch dinner.
If you have medical or health issues, our catering service will do its best to accommodate most standard dietary requests. We can also meet requests for gluten-free and lactose-free diets. Low fat meals are not provided, but you will be able to choose appropriate food at our buffets. In order to welcome people with different religious backgrounds we do not serve pork.
Please make sure to inform us about your dietary needs in advance, (see registration form) as we might not be able to accommodate late or on-site requests.
The Caux Forum welcomes journalists, bloggers, organizations, institutions and individuals who wish to cover Caux Forum events. Depending on your role and who you represent, different requirements, terms and conditions will apply. 
For any request to cover the Caux Forum, including interviews with participants or speakers, please contact us by filling out the media coverage form.
There are two designated car parks near the Caux Palace with spaces for about 60 cars. All parking spaces are free of charge. There are more parking lots available close by but we recommend that you use our spaces first according to availability.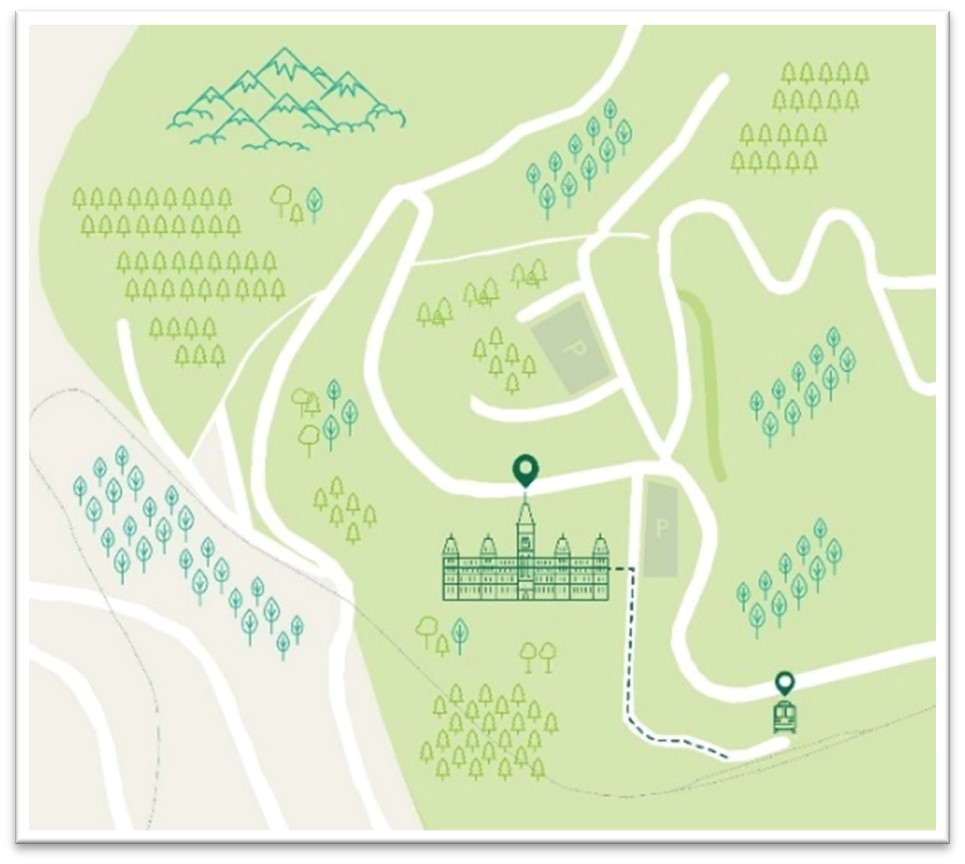 Once you have registered, a payment link will be sent to your email for your individual or group registration. This secure payment link allows us to follow the progress of your reservation and to officially confirm your reservation upon receipt of payment.
All reservations submitted via the registration form will be processed and registered as provisional before payment is received. Once payment has been received we will change the reservation status from provisional to confirmed. Payments via our link should be made by credit card. We do not store your payment details and we use secure payment methods.
It is also possible to make a bank transfer (see account information below), but if you do so, you must indicate this in the comments attached to your reservation.
Please note that all individual and group reservations must be fully paid before arrival.
Any additional expenses incurred on site must be paid directly to Reception at the time of departure. All major credit and debit cards will be accepted as well as cash payments in Swiss Francs or Euros. The effective exchange rate will be 1 Euro for 1 CHF (subject to important rates variation).
All payments prior to your arrival should be made in Swiss Francs (CHF).
Please note exceptions may be made for participants who do not have credit cards on a case-by-case basis.
For these and other queries, please contact reservation@caux.ch and specify in detail the purpose of your request and how you want to pay.
Some participants are supported by funding bodies. If this is your situation, please provide the necessary information in the boxes on the registration form. The purpose is to give us as much information as possible so that our teams can ensure that your reservation is paid for and can confirm your participation in the Caux Forum.

The Caux Palace and Villa Maria buildings are a non-smoking and alcohol-free zone to provide a safe space for adults and children of all cultures. There are designated smoking areas outside the buildings. Smoking on the balconies is forbidden for fire security reasons.
Help us reduce our carbon footprint!
In recent years, Initiatives of Change Switzerland has taken various measures to reduce its carbon footprint and to promote sustainable living.
Wood-fired heating was installed in the Caux Palace in 2016. This has reduced both our direct CO2 emissions and those associated with transporting fuel.
Caux Forum pens, notebooks, water bottles, bags and other official merchandise are made from sustainable materials.
Since 2016 all IofC Switzerland's promotional materials have been printed on Forest Stewardship Council (FSC) certified or recycled paper. This ensures that the paper is produced from responsibly-managed sources.
We are offsetting the carbon footprint of the Caux Forum by partnering with Worldview Impact and planting 2,000 trees in India.
You can help us in the following ways:
Switch off the lights when you leave your room.
Unplug your battery charger as soon as your device is recharged. Don't leave the charger plugged in overnight.
Save water by turning off the tap while brushing your teeth or washing your hands.
Avoid unnecessary washing of towels and sheets by following the housekeeping recommendations.
Use the stairs instead of the elevator: this saves electricity and helps to keep you fit.
When the heating is on, don't leave the window open for more than ten minutes.
Reduce food waste by only taking as much food from the buffet as you will eat. If you are going out for a meal, please sign out in advance.
Reduce plastic waste by refilling your water bottle from the tap. Tap water in the house is drinkable and comes from our own mountain springs.
You would like to join us at the Caux Forum 2023? You can register HERE!
Please note that:
you will be able to select the event(s) you wish to attend once you have filled in the field "Date of Birth"
the fees for your participation and stay in Caux will be calculated automatically when entering your dates, the required room category and the number and age of all participants linked to your registration.
See you soon in Caux!
Registration procedure
After you have completed the online registration process by filling out all mandatory fields on the registration form, an automated email will be sent to you to acknowledge the receipt of your registration. Please note that this email is not a definitive confirmation of your participation and stay.
After you have submitted your registration, our team will review and process your request. They will come back to you within 10 days by email with confirmation of availability along with a payment link.
Payment for a booking with multiple participants must be processed in one single transaction. Payment should be made within seven working days to guarantee your reservation. Your reservation will be held as optional until we receive your payment.
Individual exceptions regarding the payment method may be considered on a case-by-case basis. After filling out the registration form, please contact us : reservation@caux.ch
As soon as the payment has been registered by our services, you will receive a final confirmation and all the necessary information for your stay in Caux.
Please make sure to check your registration carefully before submitting it. Please note that an administration fee of CHF 10 will be charged for each change made to your registration after submission.
Prospective attendees who require an entry visa for Switzerland must allow sufficient time for the visa application procedure. They should contact the nearest Swiss embassy or consulate before planning their trip to learn about the requirements. We will provide an invitation and stay confirmation letter to participants who need a visa and who have provided the correct information on our form. This letter is often required for visa procedures but does not guarantee that your application will be accepted. The visa application is the sole responsibility of the participant.
As a visa request can only be submitted three months before travelling and can take up to eight weeks to process, we strongly recommend that you apply as early as possible (three months before arriving) and carefully study the visa requirements with the relevant embassy or consulate. Missing documents can be a ground for visa refusal. Please visit https://www.eda.admin.ch/eda/en/home.html for more information on the visa application procedure.
Initiatives of Change Switzerland reserves the right to refuse applications of people who need a visa and who are unable to provide the necessary references and documents requested on our form, in order to prevent the misuse of the visa invitation and confirmation of stay letter.
The confirmation letter for the visa will be sent to you after we have received your registration form and validated your request. If you require a visa to enter Switzerland, payment and confirmation of your registration will take place after you send us confirmation that you have been granted a visa.
Please inform the Reservations Team as soon as your visa request is granted or refused. Please keep us regularly informed on the status of the visa process: this will enable us to support you and help us organizationally. Please send us your visa approval as soon as you receive it, so that we can send you the link for the payment of your reservation.
As soon as we receive the visa acceptance and your payment, your reservation will change from provisional to confirmed and you will receive the final confirmation and all the information you need for your stay in Caux.